Biografie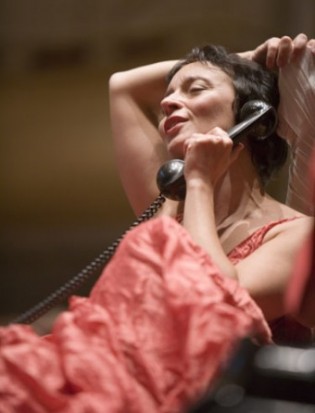 Charlotte Riedijk, being one of the most versatile singers of her generation, has worked with many of today's leading conductors: such as Alan Gilbert, Yannick Nézet-Séguin, Stefan Asbury, Arie van Beek, Ingo Metzmacher, Hartmut Haenchen, Lev Markiz, Emilio Pomárico, Julian Reynolds, Reinbert de Leeuw, Etienne Siebens, Peter Rundel, Normunds Sne, Ed Spanjaard and Lucas Vis. With the Flemish Radio Orchestra, Dutch Radio Philharmonic, Holland Symfonia, the Dutch Radio Chamber Orchestra, the WDR Symphony Orchestra of Cologne, the Swedish Radio Symphony/Berwaldhallen, the Stockholm Royal Philharmonic, Norwegian Opera Orchestra and the Dutch National Opera.
Riedijk has sung as a guest soloist with leading European ensembles including Ensemble Intercontemporain, Ensemble Modern, the Asko Ensemble, Schönberg Ensemble, Nieuw Ensemble, Spectra Ensemble (Ghent), the Osiris Piano Trio and the Altenberg Trio of Vienna. June 2008 she and her duopartner, pianist Ellen Corver, had their successful debut at the Musikverein in Vienna. She has performed in many European Countries as well as China and the US.
Charlotte likes to work closely with composers; she premiered works dedicated to her at various festivals, such as Holland Festival, Frankfurter Feste, Witten, Graz, Klarafestival (Brussels), Flanders Festival, Stockholm New Music, Time of Music (Viitasaari, Finland) and West Cork Chamber Music. To name a few: Urban Solo/Urban Songs, In grosser Sehnsucht, Torstensson, Deep blue Marine, De Vries, Splinters, Fragments 20, Samson, Tsjizj, Inni, Vermote, Nine hours of moonlight, Wilson. For the '14/'15 season Natalia Dominguez Rangel wrote an evening long work called 'Song Cycle' for soprano, double bass and accordion.
More recently (18/19 season) Riedijk appeared in L'Autunno di Christina, by Klas Torstensson, commissioned by The Doelen, Rotterdam, in cooperation with Sinfonietta Riga in performances in The Netherlands and Latvia. In March 2020 she sang the world premiere of Gezien Hercules Segers, by Elmer Schönberger, again commissioned by De Doelen, Rotterdam.
Other highlights in the last seasons were a series of Poulenc's La Voix Humaine with the Holland Symfonia (staged by Monique Wagemakers), a tour of Scandinavia with the Osiris Trio, concerts with Vienna's Altenberg Trio, a solo opera production based on In grosser Sehnsucht with Opera OT (Rotterdam Opera Days Festival), a new chamber opera by Rob Zuidam (Der Hund), the world premiere and Dutch tour of Param Vir's new opera Black Feather Rising and several performances of Elliott Carters masterpiece A Mirror on Which To Dwell.
In the autumn of 2009 she made a tour of Italian Operahouses with a new staging of La voix humaine, directed by Leo Muscato, with Matteo Beltrami, conductor. After having performed the role of Anna Charlier (The Expedition, Torstensson) at the world premiere, she sang the part in Stockholm, Oslo, Malmö and Cologne.
Charlotte appeared at Hollands Diep Music Theatre in Klaagliedjes, Tarenskeen, on lyrics by Dutch poet Judith Herzberg and in Harawi, chant d'amour et de mort in which she sang and danced on a choregraphy by Marta Reig Torres.
With Reig Torres and dancer Alina Fejzo she developed a series of sight specific shows, using dance and voice, connecting to works of visual art by Willem Besselink (season 18/19).
Chamber music plays an important role in her career; she is a regular guest at festivals like West Cork Chamber Music Festival in Ireland, where she performed works in very different styles, from Dowland to Torstensson and Widmann, with musicians from all over the world. At Delft Chamber Music Festival she appeared with, among others, Elisabeth Leonskaja, Liza Ferschtman, Dimitri Ferschtman and Enrico Pace in works by Debussy, Ravel and Shostakovitch. Her performance at West Cork Chamber Music Festival of Harawi, chant d'amour et de mort, Messiaen, with Joanna MacGregor, was awarded best classical concert of the year in Ireland.
After her first appearance with the Flemish Radio Orchestra (now Brussels Philharmonic) she was invited for the CD recording of Cinq chants d'amour, orchestral songs by Belgian composer Arthur De Greef, under the baton of Yannick Nézet-Séguin (KTC 4013). Also obtainable on CD: Urban Solo/Urban Songs (Torstensson), La Disciplina (Boogman), Suite of Romances on lyrics by Alexander Blok op. 127 (Shostakovitch), The Expedition (Torstensson). In grosser Sehnsucht (Torstensson, Cobra-records 0018), Harawi, chant d'amour et de mort (Messiaen, Warner Classics), Pierrot Lunaire (Schönberg, Encora records). The CD, Spectra, 20 years for the record, on which Riedijk is to be heard in works by Annelies van Parys and Daan Janssens, was awarded the Golden Label 2014 in Belgium.
Charlotte Riedijk received her education with Charles van Tassel at the Sweelinck Conservatory in Amsterdam where she also attended the opera class.
After her studies Aafje Heynis, James McCray and Margreet Honig coached her.
In 2012 she initiated De Stem van Haarlem (The voice of Haarlem), an organisation that supports young singers in finding their way to the stage by providing them with coaching and performance opportunities. Her initiative was awarded with the Cultural Prize 2014.
Having been a regular guest teacher since 2005, Charlotte Riedijk is part of the classical vocal department of Codarts Rotterdam as a main subject teacher since the 2013/'14 season. www.codarts.nl